I decided it wasn't worth waiting for the final Adam sprite to push a new release, given everything else that's stacking up behind it. So here's a new release with the first real art assets: theme music, backgrounds, and inked (but not colored) Adam sprite. Hopefully the next release will include both finalized Adam and James sprites, but we shall see.
Also, as the game approaches a more "finished" state, I'm going to start giving releases a name. This one is "A is for Adam", since it features a partially-finished Adam sprite.
Version: v0.11107
Release name: A is for Adam
As usual, you can get it on the download page.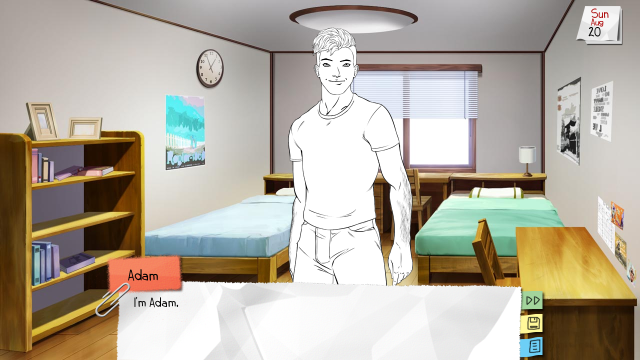 Changes in this release:
Replaced Adam sprite in game (with unfinished version)

Replaced Freshman dorm room, dining hall, and The Yard backgrounds in game

All other backgrounds marked as placeholder backgrounds
Added theme song to title screen

Character profiles have additional features

Game reacts differently based on how much you see Elliot and the Lizzes

Dan should be a little more polite early on

You can pay for food when you go out with people

Calendar now includes day of the week

Added bonus post-epilogue scenes for the main guys

Minor bug fixes

Stats for this release: 27,888 dialog blocks, 225,214 words, 1,179,425 characters