So I lied. A lot of small changes started stacking up, and the massive renaming of Juan to Carlos made me feel like I should push another build before November. So have a new build!
It's worth noting that this is not the "final" build I want to sic beta testers on, but it basically has all of the features I wanted to add to the game, as well the final JuanCarlos sprite. The big new thing is CGs (or at least placeholders for CGs). A true "final" build will still be coming in November or December.
Version: v0.21006
Release name: F is for Friendship

As usual, you can get it on the download page.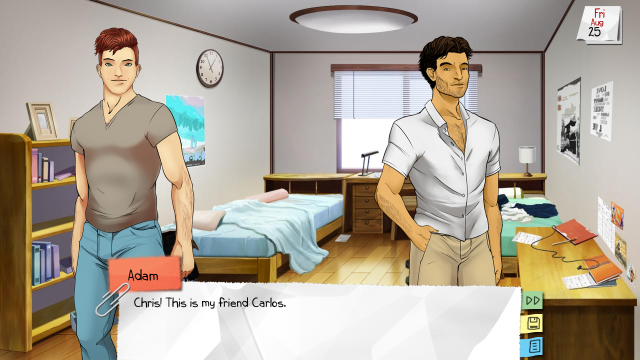 Changes in this release:
Renamed Juan to Carlos

Replaced Carlos sprite in game
Added placeholder CGs to route endings
Replaced one CG in game
Fixed self-voicing across main menu, preferences, and in-game menus
Fixed bug with viewing character profiles during gameplay
Allowed replay of epilogue scenes from character profiles
Allowed viewing of CGs from character profiles
Minor epilogue tweaks
Minor sprite cleanup
Minor story tweaks
Stats for this release: 26,245 dialog blocks, 230,640 words, 1,213,973 characters
Edit: I'm aware of a bug in this release that will delete some of your collectibles every time you view the Collectibles screen (including switching back to it from the Achievements screen). I'm not going to patch this release, so avoid viewing your collection for now if you care about finding everything.