I'm still waiting on final Jake and Dan sprites, but I wanted to push a new release anyway due to the massive number of changes queuing up. We're approaching full background replacement, with only three left (James' apartment, the student center game room, and the epilogue apartment), which is exciting.

The biggest change in this release is probably the full replacement of all character sprites with "better" stick figures, which I affectionately dub "tentacle sprites" due to their arms. I suspect there are remaining bugs, but this means future builds with finished sprites will be much less buggy.
Version: v0.20122
Release name: C is for Cookie (because Jake)

As usual, you can get it on the download page.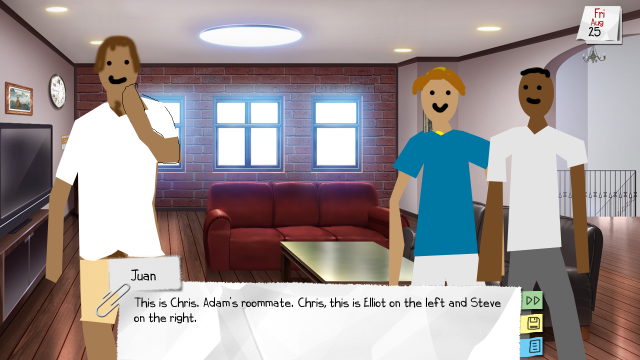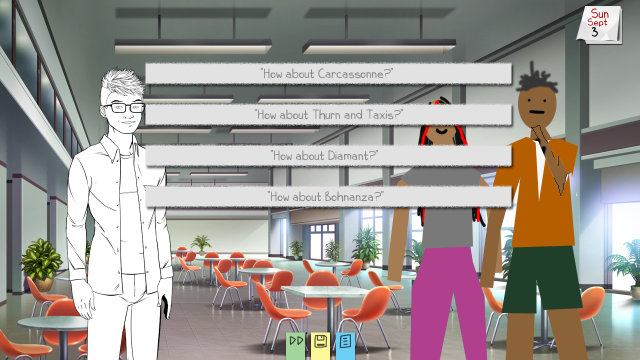 Changes in this release: 

Combined a bunch of dialogue blocks 

Updated RenPy version

Replaced Jake sprite with inked version
Replaced all other sprites with "better" stick figures
Replaced computer lab, library, student center hallways, student center atrium, hospital, theatre, Q&A room, Dan's room, and swimming pool backgrounds in game
Added a difficulty setting (unlocked after one playthrough)
Added a character profile for Janet
Accessories properly show up in epilogue scenes
Added additional scenes with Elliot
Added additional dream scenes
Small tweaks to Jake and Nikhil banter
You can immediately view collectible descriptions when you obtain one
Slightly renamed/reworded some collectibles for consistency

Stats for this release: 26,300 dialog blocks, 230,663 words, 1,211,282 characters